Highlights
Synaptics has improved the in-display fingerprint sensor
Vivo phone displays an illuminated fingerprint image at the bottom of the screen reported by Forbes
The Vivo model is Rumored to be Launched in the first Quarter of the Next Year
To all the users who were disheartened with the Apple iPhone X unavailability of a front fingerprint sensor would be left flabbergasted after knowing that Vivo is planning to unveil an in-display fingerprint sensor in its next flagship device. The model by Vivo is expected to be unraveled in the first quarter of 2018. This news is based on the GIF image of a Vivo smartphone spotted online.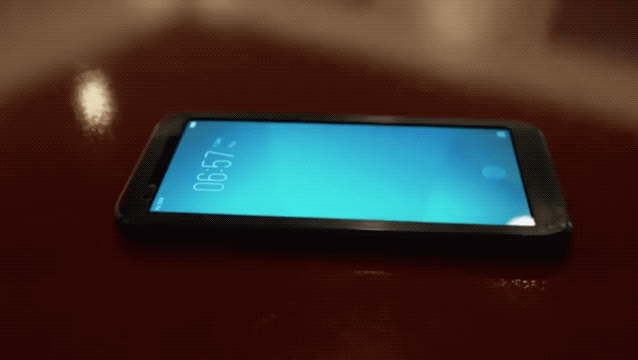 The image reveals device of Vivo with an in-display, fingerprint sensor and works with just a tap. Although, this was under the process of development by Synaptics from a long time. It is just recently rumored that the California based developers of handheld electronic devices are preparing to go to the mass production of the fingerprint recognition process. Furthermore, it was through an article on Forbes, the American business magazine that the news of in-display fingerprint technology manufactured by Synaptics got confirmed.
Moreover, the full screen display smartphones like the iPhone X got equipped with facial recognition, still the users were more compatible with the front fingerprint sensor. Now, this buzz has created a new ray of hope among the consumers and certainly this in-display fingerprint technology will be beneficial for the end-users.
The consumers need to understand that the fingerprint sensor determines the recognition process with the help of optical technology. This technology makes use of localized Transport Layer Security(TLS) or Advanced Encryption Standard (AES) or Elliptic-Curve Cryptography (ECC) encryption that ensures the security of your smartphone.
According to the Forbes magazine article, when a user press the button, which is present on the right side of the Vivo model that is expected to carry an in-display fingerprint sensor, then it exhibits an illuminated fingerprint image. This image is displayed at the bottom of the pre-production Vivo smartphone screen, which can help the user in unlocking their handset immediately by just touching it. Furthermore, it has been confirmed by Synaptics that this feature will be available on bezel free devices which comes with OLED infinity displays.